The Shrock Family Farm believes that everyone should have access to healthy vegetables
By Kathy Feeney
Shelly and Brandon Shrock started their small family farm in Selma in 2015, just two years after
moving to the area.
Not long afterward, they began donating extra produce every Saturday during the growing
season to the Soup Kitchen of Muncie.
"As a farmer, I hate to see food wasted, especially fresh produce," Shelly said. "The Soup
Kitchen does a wonderful job of using all types of produce and freezing what they won't
immediately be using."
Basil for making fresh pesto and lettuce for healthy salads are especially popular with the Soup
Kitchen, Shelly said. Shelly and Brandon believe that everyone should have access to fresh,
healthy produce for everyone.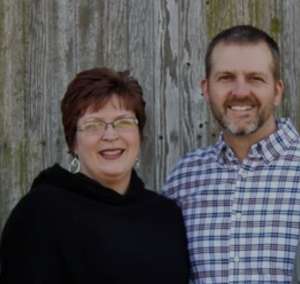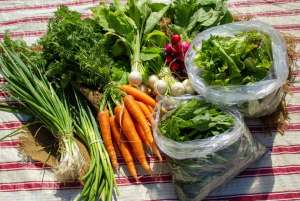 The Soup Kitchen of Muncie could not continue to serve the local population without
community partners like Shrock Family Farm, according to executive director Loretta Parsons.
"Of all people, farmers know the value of food and all the hard work that goes into making it,"
Parsons said. "And you can't get much fresher than having vegetables grown just a few miles
away from the soup kitchen. We are incredibly grateful for the Shrocks and for all our other
supporters as well."
Using sustainable and environmentally sound farming practices, the Shrocks grow a variety of
vegetables on their 1-acre farm. Additionally, they provide pasture-raised chickens for both meat
and eggs. All of these products are available at a variety of venues, including the Minnetrista
Farmers Market, the farmstand at their Selma farm, and through their Community Supported
Agriculture Program.
Community Supported Agriculture, or CSAs, have been gaining in popularity. According to the
USDA, Community Supported Agriculture is a program in which community members pledge to
support a farm, sometimes called "buying shares".  By doing so, they share both the benefits and
risks of that farm.
When the weather is good and the crops are abundant, CSA members reap the rewards in the
form of fresh, healthy produce. When times are less fruitful, the CSA members get less produce,
but the farmers are able to fall back on the financial support from the CSA memberships.
Shrock Family Farms runs a popular CSA here in Delaware County. Memberships run from May
to October and can be for a single season or for the duration of the growing year. Members get weekly or                  bi-weekly produce pickups, access to pasture-raised poultry, along with recipes and
education on the various kinds of produce.
Members are also invited to the farm for tours, workdays and for dinners.
"What you eat is important for your health," Shelly says. "Growing nutrient dense, delicious
vegetables that can be enjoyed by all is our goal. We love sharing these vegetables and showing
people how and why vegetables are healthy for you."
Shelly's Favorite Recipes
*Garden salad with lettuce mix, toasted almonds, feta cheese, cucumber, pepper, boiled egs,
turnips, onions, and tomatoes when in season. Drizzle with olive oil and balsamic vinegar.