You all helped make 40 Days of Giving a big success.
At the beginning of the year the Soup Kitchen fundraising and events committee had a brainstorming session to come up with some fun and unique events to help support the Soup Kitchen.
One member suggested doing something around Lent: Let's have people give something instead of give up something.
And the 40 Days of Giving Food Drive was off and running.
For 40 Days of Lent the Soup Kitchen asked the community to participate in donating food to help stock the shelves or money to help us purchase supplies and produce.  For each of the 40 days people would put one item from the wishlist in their donation box or a certain amount of money in their donation jar.
The idea was a success. During Lent, the Soup Kitchen raised more than $10,000 and collected about 1,000 food items and paper products. Donations came from more than 60 people and organizations.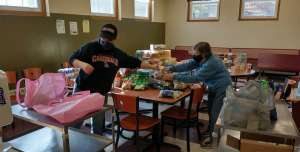 We weren't sure what to expect, but our community is very generous when it comes to helping those in need.  From individuals to families, from church groups to office staff, and even a Ball State class, we were overwhelmed with the response.  We had two drop off days and food donations piled up on the tables in the Soup Kitchen Dining room and monetary donations came through in the mail and online.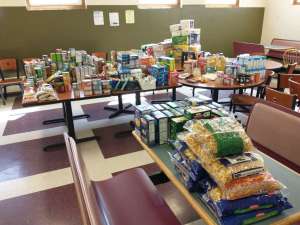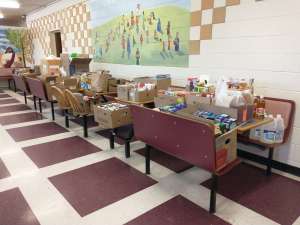 Several people who dropped off boxes of food said the 40 Days campaign was a fun way to be able to help out the Soup Kitchen and it was a great way to get their office staff involved in a service project and they enjoyed the unique twist of giving something during Lent.  One person commented that their family made it a game to find what was on the wish list during shopping trips.
The Soup Kitchen Board and staff would like to thank all those who participated and donated during our 40 Days of Giving Food Drive!  We appreciate your support in our mission and to serve those in need of food.