Ingredients:
(Vegan without optional cheese)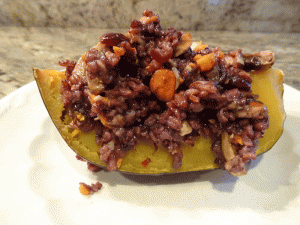 3       tablespoons olive oil, divided
2        acorn squash cut in half with seed removed.
1/2     cup onion, finely chopped
1/2     cup carrots, finely chopped
1/2     cup mushrooms, chopped
2       tablespoons garlic, minced
1/2     cup prunes, chopped
1/4     cup raisins, golden
2        cups brown rice, cooked
1/2      cup sticky black rice, cooked
1         tablespoon red pepper flakes
1         tablespoon thyme, leaves, dried or fresh
1/2      cup Parmesan cheese, flaked or grated (optional)
Directions:
Heat oven to 400 degrees.
Place squash halves in an oven pan.  Placed 2 tablespoons of the olive oil in a small bowl.  Brush the interior of the squash with the olive oil.  Bake until squash is soft and edges are browned about 45 minutes.  Do not under bake.  Remove from oven.
Place remaining oil in a small skillet and heat.  When skillet is hot add onion and carrots and sauté until they begin to color.  Add mushrooms and garlic.  Sauté until mushrooms begin to and wilt and lose their water.  Place entire contents of skillet in mixing bowl.
Add prunes, raisins, rice and pepper flakes.
Place one quarter of mixture into each squash. (Can be prepared to this point and refrigerated)
Bake at 400 degrees until acorn squash and stuffing are hot and browned.
Enjoy!