In order to help you pick which works of art you want to place a bid on at our 2021 Annual Dinner and Art Auction fundraiser, we're sitting down with each artist who has generously donated to the auction. We're kicking off this series with oil painter Margie Prim.
Margie Prim: Sunflowers in a Vase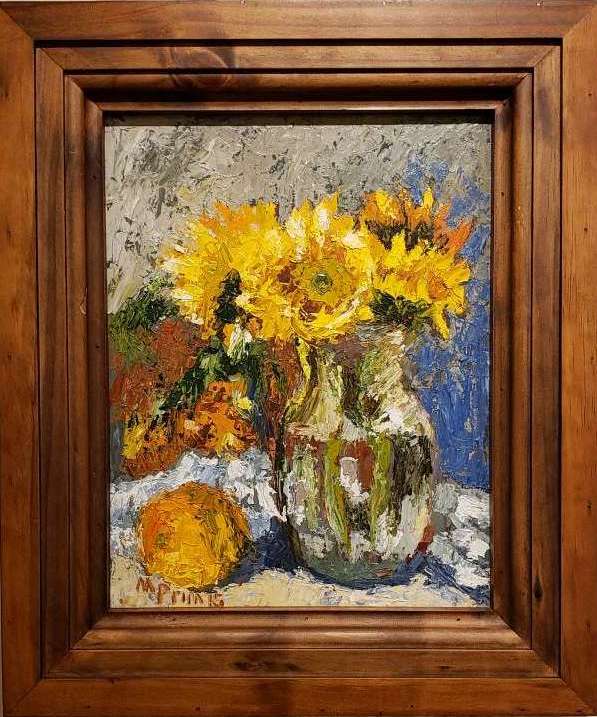 Do you remember what inspired you as a child? For Margie Prim, it was images of art in history books. She admired the old masters' style – especially when it came to oil painting. Of course, as a child, her art supplies were rather limited, so she started drawing instead. That interest and determination led to art lessons where she got the chance to dive into painting. When the opportunity to study oil painting came along, Margie Prim found her calling. She received her BFA from Phillips University, in Oklahoma, and has made a name for herself in art exhibitions and competitions ever since.
In fact, you may recall oil paintings that she has donated to the Soup Kitchen of Muncie's Annual Dinner and Art Auction from years' past – including the most recent, White Hydrangeas.  Margie Prim has been a long-time supporter of the Soup Kitchen of Muncie, saying, "I like the cause and what they do for people who don't have enough to eat or the right kind of food. I think it's a good thing to support."
For her painting style, she channels the Impressionists – readers may recall names such as Monet, Manet, Renoir, Matisse, Degas, and so on. "I like the Impressionists. Their strokes are free and loose," said Prim.
When working on a still life, she sets them up herself in her studio – which means buying the flowers that inspire her and then painting as much as she can before they start to wilt. For landscape, she looks for colors that catch her eye. "Sometimes I look around and find old buildings that have character – like those that are a little run down or falling apart. I like doing those. To some people, it may look ugly but to me it has a certain kind of beauty. It reminds people of something they've forgotten."
If you'd like to see more of Margie Prim's art, you'll find it on display at Gordy Fine Art & Framing Company. If you love Sunflowers in a Vase, be sure to join us for our 2021 Annual Dinner and Art Auction where you can place a bid on it.