The Soup Kitchen of Muncie (formerly the Harvest Soup Kitchen) celebrated its 23rd year of serving the hungry in Muncie and Delaware County with their annual dinner and art and cake auction on March 25, 2017 at the Knights of Columbus Hall. The Soup Kitchen of Muncie used this festive occasion to reveal our "SURPRISE" – our new name and logo.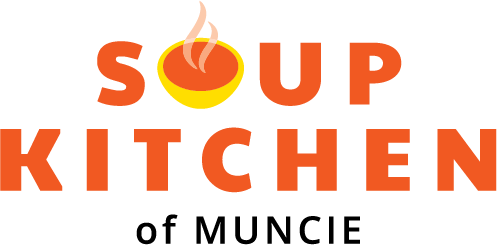 A sellout crowd of 280 sponsors, artists and benefactors enjoyed a delicious dinner with an antipasto appetizer, salad, ciabatta bread, choice of meat or vegetarian lasagna and a wonderful Italian dessert. Loretta Parsons, the Executive Director of the Soup Kitchen of Muncie, kicked off the evening with the announcement of our new name, logo and colors (orange and yellow). The room was decorated in our new colors and each guest received a Soup Kitchen of Muncie soup bowl and spoon as a gift. Steve Chatot, the Master of Ceremonies, provided a "soup kitchen" trivia game while dinner was being served with the prize for correct answers being cans of soup like "Finding Dory" or "Star Wars" soup.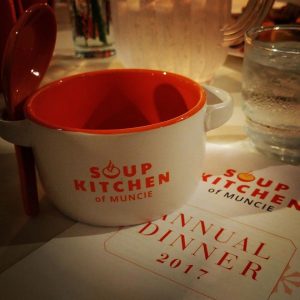 Dinner was followed by a lively auction of our donated artwork and cakes by Ed Shirey and his daughters. Our art auction included amazing works from local artists like Susie Burns, Eric Ernstberger, Alan Patrick, Margie Prim, Jenny Smith, Carol Strock-Wasson, Dan Woodson and many others. The artwork was beautiful and the bidders were very generous and enthusiastic in acquiring their favorite piece of art. The cakes were sponsored by "celebrities" from the Muncie Community and our Master Bakers did an incredible job with their baking. Cakes of many flavors like strawberry, lemon, orange and coconut were the objects of generous competitive bidding by our guests who I am sure enjoyed their delicious acquisitions.
The evening ended with the awarding of door prizes including a chef's knife, won by Deb Conlon, and a raffle drawing for a top shelf basket of cheer won by Steve Guntle.
Join us next year for our annual dinner, art and cake auction on Saturday, March 24, 2018!