This fantastic lunch was served to 139 guests.  If you would like to make this tasty chicken dish entree at home, simply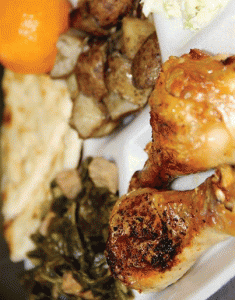 place pieces of raw potatoes and onions in the bottom of a baking pan and top with legs and thighs.  Sprinkle with salt, pepper and some dried herb
s.  We used dried thyme, but any herb, dried or fresh, would be great.  Bake in a 375 degree oven until the chicken is browned and the internal temperature is 165 degrees. This will usually take about 45-60 minutes depending on the size of the chicken.  Enjoy!