Mancino's of Muncie is making sure the community doesn't go hungry in more ways than one.
The northside restaurant is famous for its pizzas and grinders. What many people don't know, though, is that Mancino's and its customers also support the Soup Kitchen of Muncie—one quarter at a time.
"There's a little sign by the Pepsi machine and a bucket, and the sign says '25 cent donation for refills," owner Jeff Carrigan said. "It's on the honor system, and it all goes to charity."
In every October for the last 5 years, all proceeds from the refill bucket have gone to the Soup Kitchen of Muncie.
Out of modesty, Jeff has asked that we not publicize the donation amount generated from October 2022 refill proceeds. But we can tell you that the honors system is working at Mancino's.
The donation was substantial and very much appreciated, according to Loretta Parsons, executive director of the Soup Kitchen of Muncie.
"When the check arrived this winter, the full amount was surprising," Parsons said. "All those little quarter donations add up quickly. We are incredibly grateful for Mancino's, and we hope that Muncie continues to show its support for businesses that give back."
The charitable tradition existed at Mancino's when Carrigan bought the restaurant 15 years ago, and Carrigan decided to keep it alive. In that time frame, Carrigan said, donations have grown almost five-fold.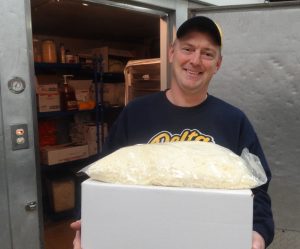 Carrigan said he was inspired to support the Soup Kitchen of Muncie by a former educator of his, Ball State food management professor Lois Altman. Altman is also a past president of the board for the Soup Kitchen of Muncie, and a long-time volunteer in the kitchen.
Each month at Mancino's benefits a different charity, and the Soup Kitchen is one of nine on permanent rotation at the restaurant.
"It feels great to be able to give back to the community," Carrigan said. "The community is supporting us, so when we give back it's a win-win."