Gift giving time is almost here. The stores are crazy.  Even too late for cyber ordering. Don't stress. Don't shop. BAKE! Bake a cranberry walnut cake.
Perfect gift for everyone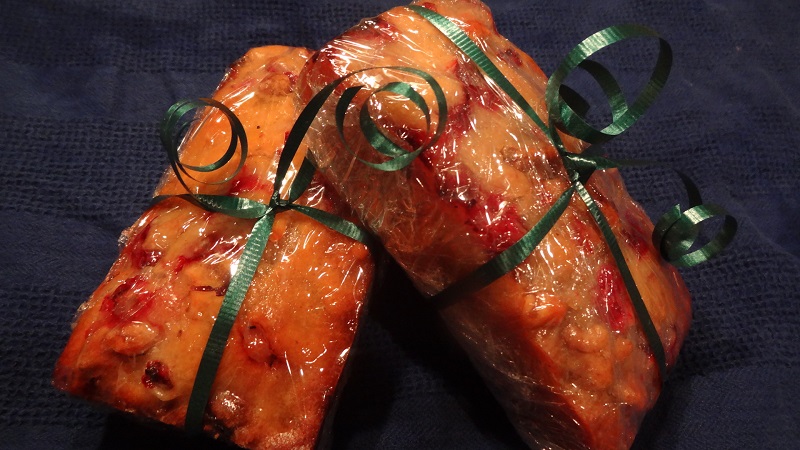 Cranberry Walnut Cake is the perfect gift for everyone on your list. You can whip it out in a couple of hours. You probably have everything you need already in your kitchen. The recipe is even "kid friendly" so get the whole family involved in the fun.
Even if you have your shopping all wrapped up, still bake this cake. I call it "social insurance". It's so versatile.  Not only can it be used for gift giving, it can be dressed up. It even works for elegant dining. Set slices in a pool of Grand Marnier crème anglaise or alongside a scoop of homemade Grand Marnier ice cream. Then garnish with candied orange peel and fresh cranberries. Wow!  What a presentation and so easy.
Need a little something extra on that holiday brunch plate? A slice of cranberry cake would be a wonderful idea. On some of the plates at the Soup Kitchen of Muncie's Christmas breakfast this year there will be a slice of cranberry walnut cake.
History of the cake
Many years ago, while a student at Culinary Institute of America, I worked part-time for a baker who took her products to the Union Square Market  in New York City.  This recipe, only slightly modified,  is one we made in huge quantities near the holidays .  I also used the recipe in this modified form while working as a pastry chef at the Illinois Street Food Emporium in Indianapolis.  That was also many years ago.  However the recipe is still a favorite.  It is good, easy, keeps well, versatile, and can be made in large amounts.  What's not to like about that?
How to get started
Have I convinced you to bake not shop?  OK, look at the recipe and the images and then check your pantry.  You will be all set.
Recipe for Cranberry Cake  Walnut Cake
2 cups whole cranberries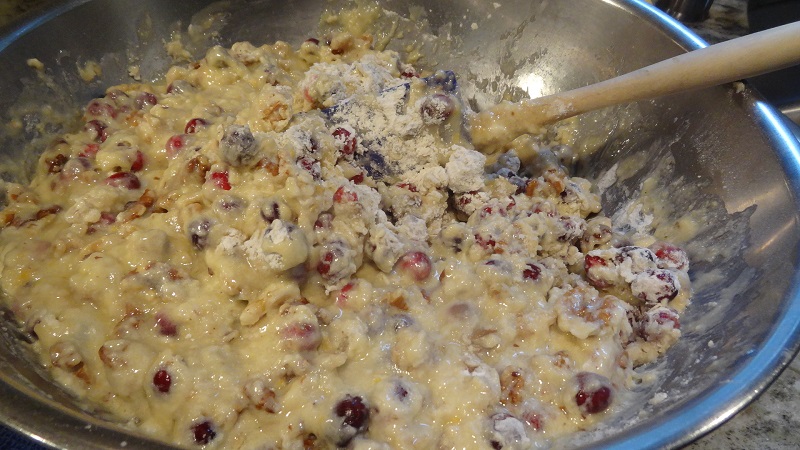 2.5 cups flour, all-purpose
1 teaspoon baking powder
1 cup sugar, granulated
2 cups walnuts, halves or large pieces
2 eggs
1 cup buttermilk*
¾ cup vegetable oil
2 zest from oranges
½ cup orange juice
½ cup sugar
*buttermilk may be replaced with ¾ cup plus 2 tablespoons regular milk and 2 tablespoons of lemon juice or vinegar
Method
1. Combine cranberries, flour, baking powder, first amount of sugar, and walnuts in a large bowl. Set aside
2. Combine eggs, buttermilk*, and oil. Stir to mix well. Add to dry ingredients. Stir to combine.
3. Remove zest from oranges and add to batter. Stir.
4. Line the bottom of baking pans with waxed paper or parchment paper. Spray with non-stick cooking spray.
5. Fill prepared pans about ¾ full with batter.
6. Bake in a 350-degree oven until tester come out clean and cakes are golden brown. Baking time will vary depending on size of pans. I usually make small cakes (about 5" X 3"). They need about 35-45 minutes in oven.
7. While cakes are baking, prepare the orange glaze. Place the 2nd amount of sugar and orange juice in a pan and heat until the sugar is dissolved.
8. When cakes are finished baking, remove from the oven. Allow to rest for about 5 minutes. Remove from the pans. Brush the orange glaze on all sides of the cakes. Keep brushing until all the glaze has been used. Sometimes I even dunk the cakes in the glaze.
9. When cakes are cool, wrap in plastic. They will keep several days at room temperature, longer in the frig and almost indefinitely in the freezer. They are great for gifts or to serve unexpected guests. I have taken these small cakes to friends overseas. They are always well received.
Thanks to Robert Williams for making the feature image of the Cranberry Walnut Cake