What better way to celebrate the fall season than to enjoy apples.  They are a marvelous fruit.  Eat them fresh.  Cook with them.   Bake with them.  No way is bad.  However apples seem to be especially delicious when baked in a cake.  This recipe  for fresh apple cake is so simple.  It is what I call a "dump" cake.  No stress.   Just stir all ingredients together.  No need for a mixer or a lot of equipment.  Only thing needed beyond a pan and a spoon is a grater.  Any hand grater will work.  Of course, if you have a food processor, use it.  The grating will go faster.
This cake can be eaten out of hand or put it in lunch boxes.  Since it is so easy to make, it is sometimes made in large quantities and served to the guests at the Soup Kitchen of Muncie.  It is also a perfect afternoon snack.  Actually, when I make this cake, I always at least double the recipe.  It freezes well.  Recently I dressed up this humble little cake to serve at a dinner party.  I reduced some of the great Minnetrista  apple cider to syrup consistency,  added a bit of heavy cream and a splash of apple brandy.  At that point I drizzled it on the dessert plates with the cake on top.  Wow!  Beautiful and so tasty.  No guests had any idea I just pulled the cake out of the freezer.
Fresh Apple Cake – Original recipe by Chef L. Altman
Yield: One 9"X13" pan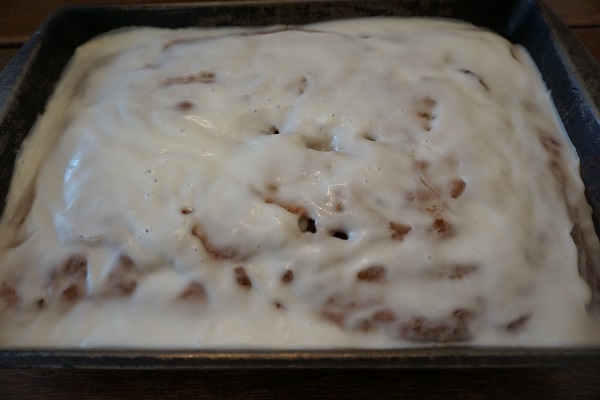 4 apples, grated but not peeled
2 cups brown sugar
2 eggs
1 cup vegetable oil
2 1/2 cups flour, all purpose
1 teaspoon allspice
2 teaspoons cinnamon
1 teaspoon nutmeg
1/2 teaspoon salt
2 teaspoons baking powder
1 cup raisins or other dried fruit
1 cup walnuts (optional)
Method:
1. Combine grated apples and sugar in a large bowl. Allow to stand for at least 45 minutes.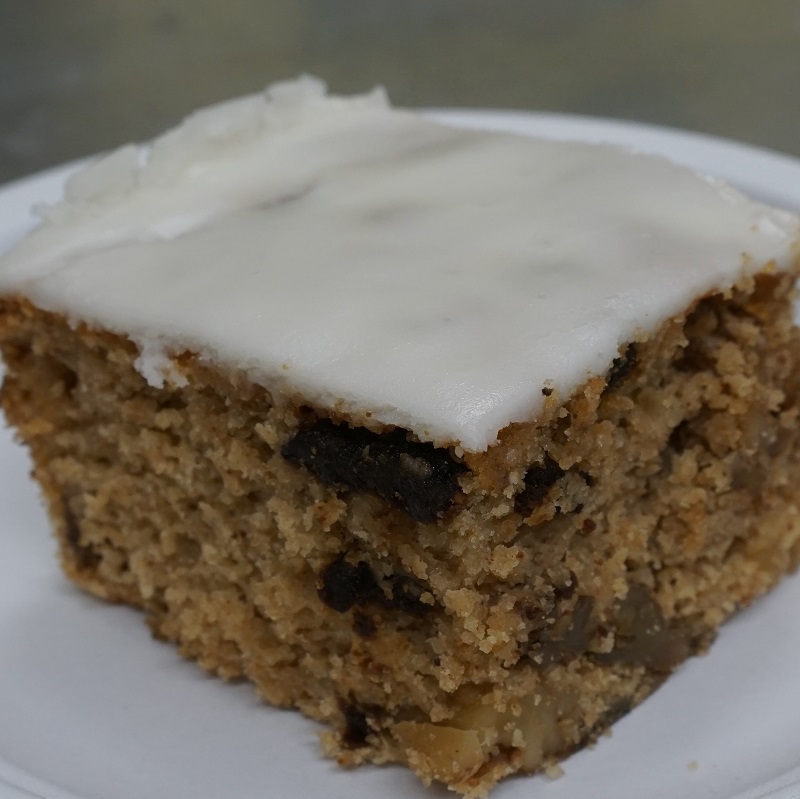 2. Combine eggs and oil. Stir. Set aside.
3. Sift together the flour and other dry ingredients.
4. Add egg mixture to apples. Stir.
5. Add dry ingredients to apple and egg mixture. Mix well.
6. Add raisins and nuts. Mix.
7. Place batter in a greased 9" by 13" pan.
8. Bake at 350 degrees until tester come out clean – usually about 35-45 minutes.
9. Top with lemon glaze while cake is still warm.
Lemon Glaze
2 tablespoons butter, melted
1 teaspoon lemon extract
2 tablespoons water
2 tablespoons white corn syrup
2 cups powdered sugar, sifted
Combine all ingredients and spoon over warm cake.  Enjoy!