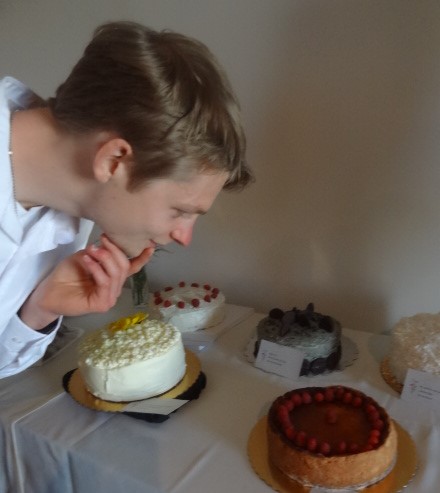 Soup Kitchen of Muncie's Annual Dinner was successful.
Thanks to all our supporters, sponsors and volunteers, the Soup Kitchen of Muncie Annual Dinner and Auction was a wild success!  What a fun evening for a good cause.
We are so grateful to Event Sponsor Patton Erie Insurance (and all of our wonderful sponsors), the generous artists and master bakers, our volunteer auctioneer Ed Shirey, and all the chefs, cooks and servers as well as the master bakers who pitched in to make this our best dinner yet. And of course, all the guests who came out to support our neighbors in need. We can't say it enough: Thank you!
The cake auction was one of the last things that occurred at the Soup Kitchen of Muncie Annual Dinner. There were outstanding cakes as well as bread and international pastries. One of the most beautiful cakes, Linda Hanson's lemon layer cake with lemon curd, was selected for the "heads and tails" game.  It netted $375 for the Soup Kitchen of Muncie.  That made a sweet ending for the evening.  (All food photos by G. Cartwright)