2017 was a year of big change and accomplishment for Soup Kitchen of Muncie, but as we look toward 2018, we see there is still much more work to do, and as much need for your support as ever.  
The most visible change the Kitchen saw last year was our new name, new logo and website, launched at our annual fundraiser in March. Although the transition from Harvest Soup Kitchen to Soup Kitchen of Muncie had no effect on what we do every day, "it definitely made us clearer about who we are as an organization," says Lois Altman, Board President. "It also boosted pride amongst volunteers, and gave them more incentive to spread the word about us."
This increased community awareness was crucial in bolstering new outreach efforts. Last November we hosted a chili supper inviting leaders from churches in the neighborhoods nearest the Kitchen. Members from five local churches shared concerns and discussed ways to help people living in the immediate community who are in need. This proved a great way to spread the word about us to those who aren't getting enough to eat, as well as recruit more much-needed volunteer support.
2017 also saw our first year campaigning during Giving Tuesday, the global day of giving held annually on the Tuesday after Thanksgiving. Recognizing our need to increase our daily cooking capacity, we asked our supporters to "Give Us Some Oven," or rather, help us raise $6300 to purchase a new double convection oven. Thanks to our donors' enthusiasm, we met our goal and then some! We couldn't have been happier, and are greatly looking forward to getting the new oven installed soon.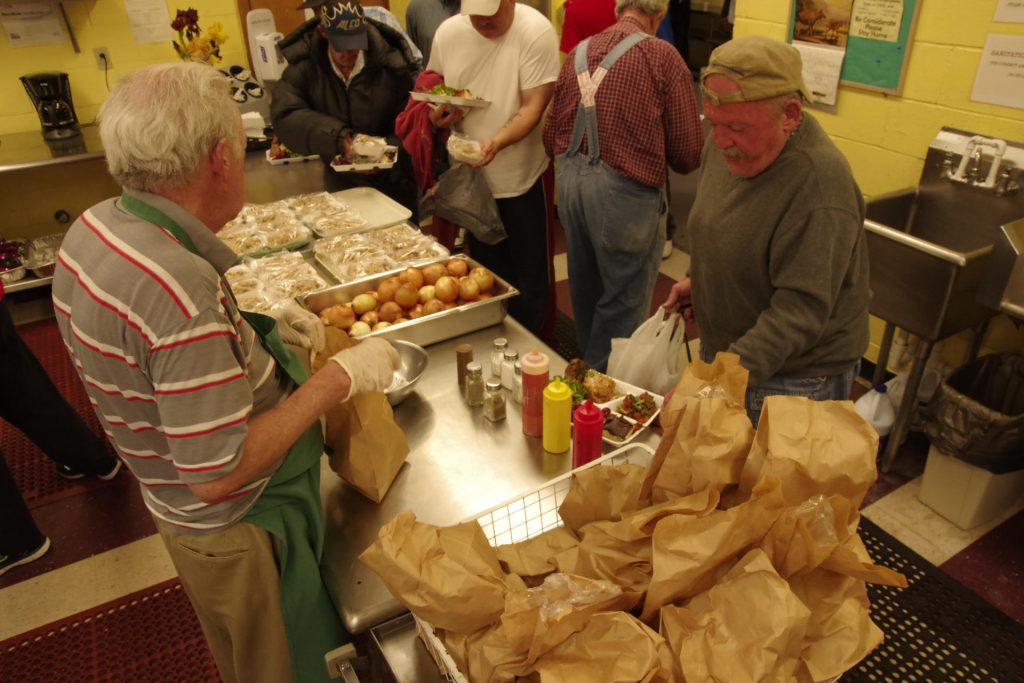 Of course, our most significant achievement is that we were able to serve over 71,000 meals to families in need last year, a 10% increase over 2016. Loretta Parsons, Executive Director attributes the uptick in part to the closing of Marsh grocery stores last summer. "These stores closing just expanded the existing food desert in Muncie, and many were left with little resources to get food even if they had money to buy it. Luckily we were accessible to many who needed it."
But despite all these accomplishments, we still have our work cut out for us next year!   
The new oven will help us dramatically, but other equipment upgrades and routine maintenance of the kitchen will also be necessary in the next year. Thanks to an ongoing fundraising campaign "Give a Hoot About Your Roots," started by the Burris High School Class of '67 at their 50th Reunion last fall, the Soup Kitchen can now also apply for matching funds to help replace aging refrigerators, paint the hallway and possibly install new flooring. (Learn more about the campaign and these efforts in this Star Press article.)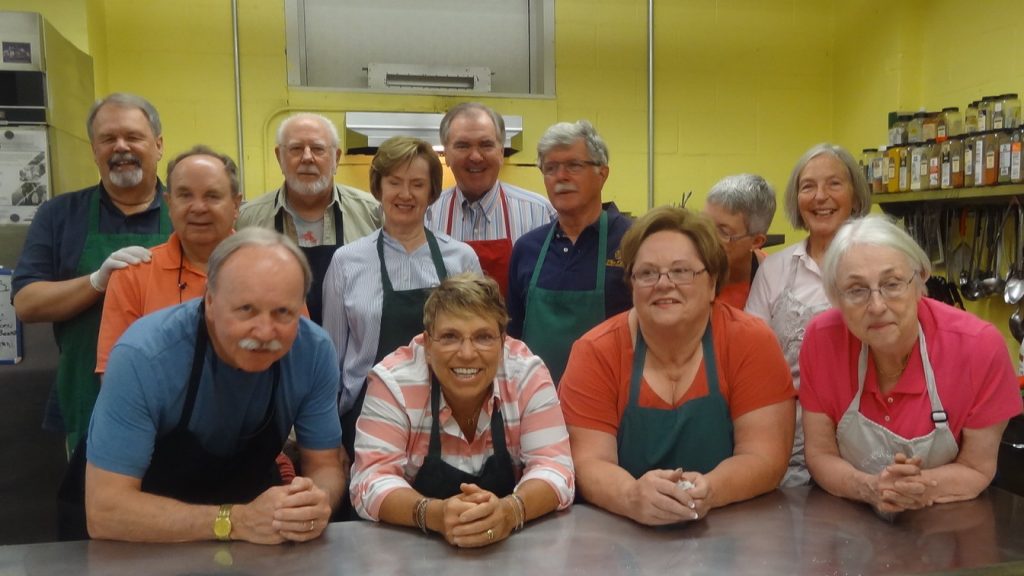 Burris High Class of '67 spent time in the Soup Kitchen during their 50th reunion festivities, kicking off a fundraiser to help upgrade equiptment.
Additionally, the Soup Kitchen is excited to continue expanding outreach efforts in 2018, networking within other nearby neighborhoods to establish new partnerships. As an almost entirely volunteer-run organization, getting the word out to local churches and groups is crucial to making sure we have enough volunteers to keep us serving guests smoothly. Particular focus this year will be on finding folks with vehicles to pick up and deliver donations from area restaurants and food service providers. If you'd like to volunteer, drop us a line at https://soupkitchenofmuncie.org/volunteer.
And of course, at the center of all we do, is feed the hungry. We are always striving to improve quality and nutrition while making the most out of our resources. One immediate concern is to find ways improve our sack lunches, incorporating more fruit or better quality protein, which can cost more if we can't get it donated. For some guests who work and can't stay for our hot meal, the sack lunch is all they might eat in a day–we'd like to make it count.
None of what we achieved in last year could have been possible without the help of supporters like you, and 2018 certainly won't be any different.
An average of nearly 140 hungry people per day passed through our doors last year. With your help, we can serve even more, even better, and with bigger smiles knowing that we have the means and the support of so many Muncie neighbors like you. Won't you give before the year is out?