You've heard the term "it takes a village," and at Soup Kitchen of Muncie, there is no greater truth!
In addition to the hard work of our volunteers and donations from our sponsors, our community partners are crucial to making the Soup Kitchen not just a place to get food, but a truly special place where so many more needs are met. These past few weeks especially, we saw just how much partnerships with other local groups and churches mean to our success.
Just in time for the cold snap, we received donations of gloves and scarves (many of them hand-knitted!) from Footprints, part of St. Lawrence Church. Footprints is a group that sews, knits and crochets a variety of items to donate to local non-profits and nursing homes. Then, with the help of the BSU bible study group of St. Francis of Assisi University Parish, we packed up and distributed the items to our guests.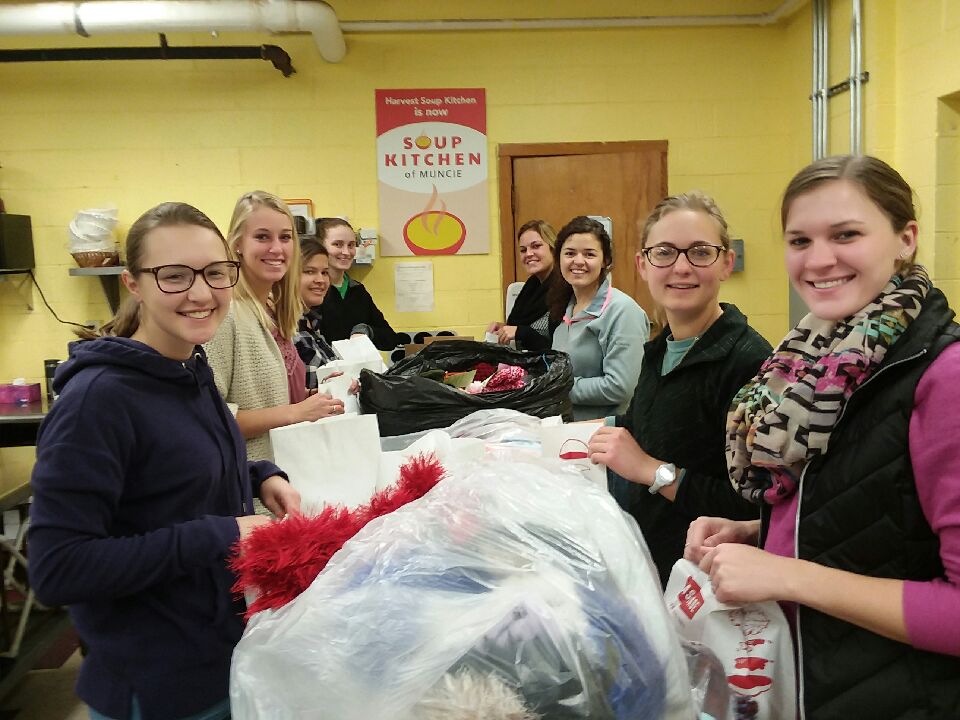 Above: members of the BSU Bible Study Group of St. Francis church packed up and distributed glove and scarves donated by Footprints of St. Lawrence church. Top photo: The new gloves and scarves made one little visitor to the kitchen much warmer, and very happy.
On Friday, the anti-violence group Enough is Enough, with Community Outreach Pastor Toddrick Gordon of Urban Light Church, joined us in the kitchen, bringing food and and smiles to serve guests. Enough is Enough seeks to stem violence in Muncie by engaging with the community and offering people alternatives to violent activity or crime. The group were a huge help to us, and we are so grateful for the work they are doing.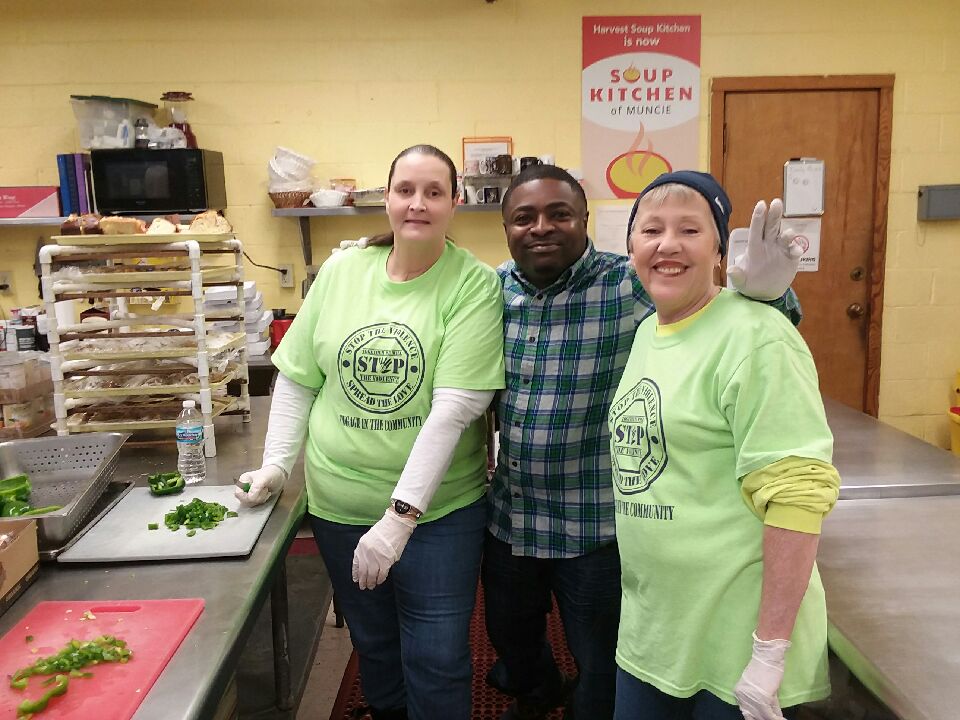 Above: Pastor Toddrick Gordon (center) with community volunteers from Enough is Enough.
These kinds of partnerships are also year-round affair. Last summer, College Avenue Church began donating fresh produce they grew in their Mission Garden on the church grounds. The additional fresh food was invaluable during the summer months, when we began to see a dramatic increase in people coming to the kitchen for meals. The church recently put together a video about how the Mission Garden came about and how they are growing good for the community.
We are so grateful to all of our partners–from churches to school groups to other local non-profits.
We work hard to create a welcoming, supportive community for our guests at the Soup Kitchen. But it's our partners in the greater Muncie community that are key to all we've been able to achieve.
If you or your organization is interested in partnering with Soup Kitchen of Muncie, please message us via our contact form!