Who could imagine that a House Concert could be such a fantastic fundraising idea for the Soup Kitchen of Muncie?  Shari Flanders, the owner of Alive Wellness Studios, did.  Shari had a plan and went for it.  She hosted friends and clients at her home on Saturday, February 5th, for food, fellowship, and good music.  Being a musician herself, she asked and, without hesitation, was able to get Married Folk and The Fierce to provide an evening of inspiring and uplifting music.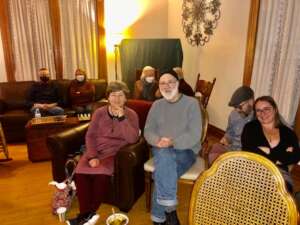 Guests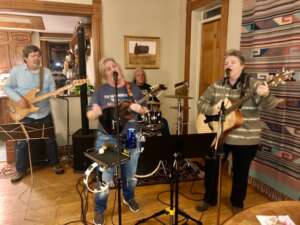 The Fierce
Shari plans to host two more events when the weather warms up, and an even bigger crowd can gather for music in her beautiful backyard with such a positive response.  Shari hopes others will consider hosting small venue gatherings to raise money for feeding people who depend on the Soup Kitchen of Muncie for nourishing meals.
The Soup Kitchen of Muncie is grateful to Shari for acting on her idea, the musicians for giving their time and talent, and the generosity of those who contributed to making it a successful fundraising event to help support our mission of feeding those in need in our Muncie community.  Without these essential services, our community health is compromised in every way that human beings can suffer.
Featured picture, Married Folk