No Knife Spaghetti is quick supper that will please the entire family including the kids as well as your budget.  It can be prepared in a flash.  Perfect for those weeknights when you have spent way too much time trying to do a million things.  For a complete meal No Knife Spaghetti only needs a salad and maybe some ice cream for dessert.
The ingredients in this recipe are suggestions.  Use what you have in your kitchen.  Add some meat if you'd like but it is a really fine as a vegetarian meal.  Even my husband, who is a big meat eater, never complains.  He just goes a little "heavy" on the Parmesan cheese.
How did this recipe get the name No Knife Spaghetti?
Many years ago, a colleague and her husband came to dinner with their small children.  I figured all kids love pasta but wanted something easy for them to eat.  Therefore, no twirling of long spaghetti strands or need for a knife.  Matt, the little guy, named it "No Knife Spaghetti".  Recently I served it again to the "little guy" who is now grown and with a beautiful daughter of his own.  Still a favorite with him and the whole group of friends.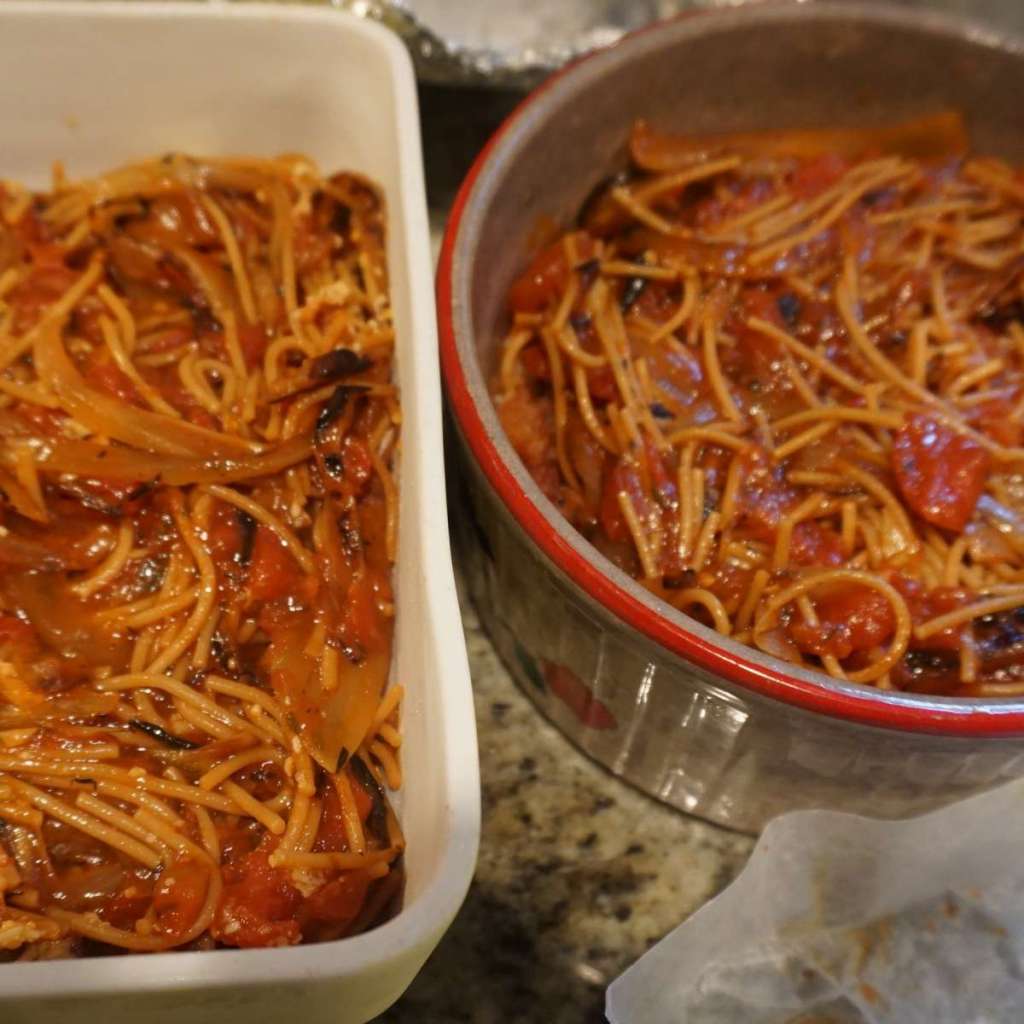 Double or Triple the Recipe
It is really no more work if you double or triple the recipe.   Put the extra finished pasta in an ovenware pan and freeze.  On a night when you absolutely have no time to cook, take from the freezer, cover with foil and bake in a moderate (350 degrees) oven until bubbly.  It will take about 45 – 60 minutes but with NO work on your part. That's fast food that's good!
Recipe for No Knife Spaghetti.  Remember, improvise if you lack a specified ingredient.
Yield: 4 portions
2            cups                    onions, sliced
1            tablespoon         vegetable oil, (olive oil is nice but a neutral oil like canola or corn oil is fine)
1            teaspoon            thyme, dried or substitute Italian seasoning
¼           teaspoon            dried red pepper flakes (use black pepper
4            cups                    tomato products (diced, crushed, whole are all fine)
3            cups                    water
8            ounces                spaghetti or other dried pasta broken into bite sized pieces
1            cup                     Parmesan cheese
Slice the onions. Heat oil in a skillet that is large enough to hold the entire recipe.  Add onions and slowly sauté them until they are quite dark.  Onions contain a lot of sugar and consequently are most flavorful when they are caramelized.  Do not be afraid of DARK onions.  They will have an amazing flavor.  If you wish to add meat to the recipe, brown the meat with the onions.  However combining the two is only advisable if the meat is fairly low in fat .  Otherwise brown meat separately,  drain fat and add to the onions.
Add thyme, pepper, tomato products and water to caramelized onions.
Bring to a boil and simmer gently for about 10 minutes.
Add spaghetti and cook for about 7 -9 minutes. Add more water if necessary.
Adjust seasonings to fit your preference.  In my family we like things spicy.  Therefore I would add more seasonings.  The recipe has no salt since many canned tomato products are rather salty.  You decide if salt is needed.
Serve topped with Parmesan.